Bill comments on his trip to Ground Zero.

By Ross Forman
NEW YORK CITY - He signed countless hard-hats, quite a few firefighter's helmets, some dollar bills and a police department patch or two. Anything that was asked, Bill Goldberg signed, without hesitation. And every autograph included the same legible inscription.
You're a Hero, Goldberg wrote before signing his name.
Goldberg signed such autographs on Sept. 26, here at Ground Zero. Along with his girlfriend Lisa, fellow wrestler Rick Steiner and this reporter, we visited the sight of the Sept. 11th Attack on America. The purpose: show appreciation to the policemen, firefighters and countless volunteers. And if that meant signing some autographs, not a problem at all, Goldberg and Steiner
"I've never been so sad, yet happy at the same time being able to do what we did here today," Goldberg said after his visit. "Through such tragedy, we're finding that the American people are coming together. We experienced that today. Everyone we shook hands with, everyone we bonded with … we kind of felt their pain; we kind of took them away from that pain for that one short second, for that one short moment. Hopefully we helped them forget about what's going on. If we could take them to a different place per se, even for a short moment, so they could take their mind off of it, we did our jobs.
"The sight is surreal; that's the best way to describe it. You can't believe what Ground Zero looks like; I couldn't believe it. What was really overwhelming to me was, the smell; it's horrendous. The place is like a warzone, with the National Guard and so many other (military personnel).
"It was kind of like you're on a different planet; that's how it was to me."
Goldberg, who had a three-year NFL career (1992-94) with Atlanta before reaching international fame with World Championship Wrestling (WCW), added: "Being at Ground Zero is like being in the middle of hell. And it's even more amazing when I think about the fact that I was there 15 days after the attack. There's no way to put into words how devastating that scene is. You can't believe what that scene looks like. When the location of the Twin Towers was pointed out to me, I was numb by that point, just from the destruction to the other buildings.
"It was a huge honor to be able to go down there and let these guys forget about everything that's going on, even if it was for just a split-second. That's why we came here. That was our mission. You always hope to help, but I honestly was astonished at our ability to do what we did. I feel so proud of what we did today, more so than anything I've ever done. I think today was one of the most gratifying days of my life in that I think we touched so many people. We at least were able to temporarily ease their pain."
In addition to visiting Ground Zero, we visited several area police precincts and fire stations, each mourning the nation's loss and their own losses. Several policemen and firefighters from the places visited lost some of their own. Goldberg signed 8x10 photos for all who requested, and some for children of the slain. He also left hundreds of pre-signed photos, just in case an autographed photo would ease someone's pain for even a split-second, he said. In total, Goldberg gave away about 1,500 color autographed photos.
The New York visit also included a stop at the make-shift "family center" at Pier 94 on Manhattan's West Side, where hundreds of hand-made MISSING posters hang. Goldberg offered his support to the grieving families, such as the White woman who lost her son and the Black man who lost his best friend; each wore a self-adhesive sticker on their shirt that identified them as FAMILY. Strangers on Sept. 10th, the two were eternally connected the next day – and have been the support for one another ever since. Both knew Goldberg; both recognized Goldberg; both were shocked, surprised and slightly happy to see a familiar face grieving with them. Amid the tears, a dose of support and glimmer of a smile.
Goldberg also presented the center with Nabisco food products and several hundred Beanie Babies, donated by Tri-Star Productions, Inc. The Houston-based company contributed more than 1,000 Beanie Babies to the grief-stricken families – and all were passed out by Goldberg and Steiner.
"Stopping at the family center … that was like an upper-cut," Goldberg said. "That knocked us down before we even got started. We knew what we were in for when we saw all the names on those boards. We kind of knew what we were in for after (visiting the family center)."
The New York visit was capped by an hour-long visit to the Ronald McDonald House. More autographs, more Beanies from Tri-Star and, most of all, more smiles.
"Going to the Ronald McDonald House … that's hard to describe, that's reality," said Goldberg, who received a button from 6-year-old Ariel, which represented all the people killed or injured in the Attack on America. "She's smart beyond her years. To know that she understands to a point what's going on shows how delicate the situation is.
"To see those kids was … so refreshing. It's hard to explain. It was uplifting to see the smiles on those kids' face."
Goldberg added: "I know this is going to be a long clean-up. This is huge task that will last six months, probably much longer. I'll be back, and hopefully we can put more smiles on faces … because these people are the real heroes."
There's nothing I can say about Ground Zero that Goldberg or anyone else who has been there hasn't already said. The destruction in incredible. The smoky, horrible smell is non-stop, truly war-like.
Ground Zero is nothing less than hell.
Not only are the Twin Towers of the World Trade Center gone, but so are other nearby buildings. That's the incredible part, plus the fact that several still-standing buildings will have to be destroyed due to damage.
The size, scope and magnitude of this terrorist attack in indescribable.
Newspaper pictures don't do it justice.
TV footage doesn't do it justice.
I can't even imagine what it was like at the scene on Sept. 11th, or the following day, or any day in the two weeks that proceeded our visit. Actually, I sort of can. During visits to the police stations and fire departments, each showed us their photos of the scene from the days immediately after.
Incredible is the only way to describe it.
I showed up in New York with a black Topps fleece jacket, the one made for the card maker's 50th Anniversary. Why? No particular reason, other than it would keep me warm on a crisp fall afternoon and if it got dirty – as I suspected it would – the dirt wouldn't show as much on the black. I wasn't wearing the jacket as a tribute to the nearby card maker, or for any other reason.
But I've now got to admit, I'm glad I wore it.
Sure, it kept me warm. But most important, it attracted quite a few positive comments from policemen and firefighters – about their collections. They thought I worked for Topps and often without even asking started telling me about their collections.
"I've got some great cards from the 1950s," one policemen said.
"Topps," one firefighter said, a confident smile on his face, "I love their cards."
For one small moment, as we talked trading cards, their minds were away from the attack. Then they got autographs from Goldberg and Steiner, another collectibles experience that took them away from the hell that was minutes away from their offices.
That's why I can unquestionable say, our trip was a success.
Goldberg's devotion to help the victims of the Attack on America was seen on eBay in mid-September. He auctioned the boots and one of the black gloves he wore in a January pay-per-view match, which was his "last" match due to a retirement stipulation on the match.
The boots sold for more than $1,500. The glove sold for $600.
All the money was donated directly to the American Red Cross.
And Goldberg agreed to match the total.
ADDITIONAL COMMENTS FROM GOLDBERG.
ON ROSS FORMAN
"This day couldn't have happened without you. It could not have happened without you, period. And if you don't include this in the story, I'll kill you. You set us up with everyone, everything we did. So, I thank you from the bottom of my heart because, for me to be able to do things like this is worth more to me than any car, motorcycle or monetary possession, or any feeling I've ever felt. I feel more powerful after doing what I did today than picking up The Giant and jack-hammering him in front of 40,000 people."
ON TRI-STAR PRODUCTION, INC.
"I personally want to thank Mandy (Fuerst) and Jeff (Rosenberg) for donating the stuffed animals. Every person who was involved in making today happen, I thank them, and that definitely includes Mandy and Jeff. It wasn't just Goldberg and Steiner showing up in New York to shake hands."
ON RICK STEINER
"I really want to thank him for coming. Big time. The more and more I'm around the guy tells me more and more about him that I like. I love him. He didn't waver one second when I asked him to come with me."
ON THE WWF
"After inquiring about whether or not any WWF wrestlers had been to New York to offer support for the policemen and firefighters, it's amazing that, even though the WWF is basically based in New York City (Stamford, Conn.), none had been by there. Or at least to the places we had been, and with the people we saw and spoke with. That's disgusting. People ask me why I'm not working for the WWF. Well, I think that explains it."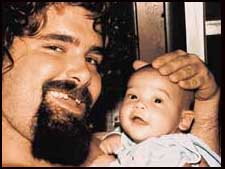 Article and Pic from National Enquirer
GENTLE GIANT: WRESTLING TOUGH GUY IS A BIG SOFTY
He's the roughest, toughest, most injured man in pro wrestling with a battered body held together by hundreds of stitches. He wears a Hannibal Lecter-mask, hurls his 297-pound body off the top of steel cages and crashes through hard wooden tables without flinching. FAMILY MAN Mick Foley with wife Colette and their two kids.
Millions of admiring fans know him as Mankind -- famed for his near-suicidal ring stunts -- but The ENQUIRER has learned that he's really a gentle giant who cries at sad movies, has a big soft spot for sick kids and nearly became a minister instead of a grappler!
The 6-foot-2 World Wrestling Federation superstar, whose real name is Mick Foley, is such a sentimental guy that he plays Christmas music all-year-round at his Florida home.
Mick recently stunned the literary world when his riveting new autobiography -- "Mankind: Have a Nice Day! A Tale of Blood and Sweatsocks" -- soared to the top of The New York Times best-seller list.
The book describes some of his most grueling matches -- including one in which his right ear was severed. But despite his reputation for taking and dishing out punishment, 34-year-old Mick admitted in an exclusive ENQUIRER interview: "I'm a big softie!"
The pear-shaped brawler enjoys watching such family classics as "Old Yeller" and "The Iron Giant" and he confesses they bring tears to his eyes.
"I've proven over and over again what a really tough guy I am, which makes it easier to let a few tears go," said Mick, who planned to watch his favorite "Happy Days" episode right after talking to an ENQUIRER reporter.
His resume of pain includes: more than 325 stitches, a broken jaw, dislocated and separated shoulders, five broken ribs, a bruised kidney, second-degree burns, a broken wrist, two herniated discs, a torn abdominal muscle, torn knee cartilage, a twice-broken nose, at least eight concussions, four teeth knocked out and, of course, the severed ear. DOTING DAD Mick with son Dewey at 4 months. "My family comes first," he says.
"Mick Foley is the toughest SOB I have ever encountered," World Wrestling Federation commentator Jim Ross said. "He's unbelievably indestructible."
While the public never sees him give in to pain, Mick's big heart visibly breaks when he encounters children who are seriously ill.
He was deeply touched by a little boy named Antonio who recently approached him at a book signing. "It was obvious that he had been very badly burned.
"I let the little guy sit on my lap while I signed books. I know it meant so much to him and his family.
"What they don't know, is that it meant just as much to me."
The tough guy with the heart of gold invited the Boston boy backstage the next day. He got six of the other WWF stars to pose for pictures and greet Antonio.
"We felt just as happy about it as he did."
Foley also befriended a young Indiana girl with muscular dystrophy.
"I met Terri DePriest back in 1988. She wasn't hard to spot. She was a little girl in a wheelchair and one of the few who came to watch me wrestle back then."
A close relationship developed with Terri and her family.
Tragically, the brave youngster died in 1993 but Mick continues to be friends with her dad.
"Her father makes these beautiful ceramic Santas and has been sending them to me every year at Christmas," revealed the bear-like wrestler, who cherishes his collection of seven Santas and keeps them out all the time. He also admits to listening to Christmas music all year!
At one point in his life, Mick was so inspired by the Bible that he considered becoming a preacher. "I was 18 years old and fighting these two conflicting feelings about becoming a man of religion or a man of wrestling."
The ring won out over the robes, and as a wrestler Mick attracted many admiring female fans -- not bad for a guy who couldn't get a date. "I was a flop with girls -- I didn't have date one in high school, not even to the prom," he admits. He didn't do much better in college, but then as a young man, he was bowled over by a beauty named Colette.
"Incredibly, the toughest man in wrestling was afraid to ask her for a date!
"Colette loved the fact that I didn't have the guts to ask her out myself. I had somebody else do it. "She thought that was admirable; other women would claim that it was cowardice," laughed Mick, who married his sweetheart in 1992.
Fearless Foley prides himself on being an involved family man, who gained 30 pounds of sympathy weight when his wife was pregnant with their son.
He loves nothing better than spending time with Colette, a former Revlon model, and his two adorable children -- Dewey, 7, and Noelle, 6. "My family comes first," he says. "There's no place I'd rather be than home."
Mick has wrestled under the names Cactus Jack, Dude Love -- and now the super-popular Mankind. He's won all sorts of titles, but the most unexpected is "best-selling author."
Without the help of a ghostwriter, Mick churned out 760 handwritten pages.
"I did this book lovingly. It took 50 days, averaging seven hours of writing a day," he told The ENQUIRER.
"I am very excited to have my story told in The ENQUIRER. I know it will reach a lot of people.
"I'd like to be a role model not for what I do in the ring but for people trying to do something they never thought they could -- like I did writing my book."
FAST FACT! In 1982, Mick Foley was voted his high school's Homecoming Queen -- dressed in drag.