Randy "The Machoman" Savage
"The Maddness"
Love Of Proxi's Life:)


As everyone that visits #wwfsuperstars knows
"Proxi loves Machoman"
I often ask my self why (as does everyone else:)
Is he handsome?..........................no
Is he sweet?...............................um, no
Is he a gentleman?............................no, again
Does he love me?..............nope:(
Don't even know i am alive!
So, Prox, what do you see in this hunk of madness?...........hmmmmm???
Well, what can I say, I guess love is blind:)
All I know is.................
Proxi loves Machoman:)


This is my favorite picture of Randy:)


Randy Savage's Wrestling Career


Article written by "artDDP"


Close Up: The Poffo Wrestling Legacy

The Poffo family wrestling legacy began with the patriarch of the Poffo family, Angelo Poffo in the early 1940s. Poffo wasn't able to match the success his sons Lanny and Randy would attain, but amassed a respectable win-loss record and left his mark on wrestling history.
Lanny was the first of the Poffo children to reach the ranks of professional wrestling, beginning his career in the South and Southern independents. He would move on to the World Wrestling Federation and be known as "Leaping" Lanny Poffo because of his aerial tactics. After Randy began his tenure in the WWF, Lanny eventually was forced out of the picture, until he re-invented himself as The Genius, a wrestler who came to the ring in a cap and gown and read poetry he wrote about his opponents. This didn't last long, from 1990-1991, and in '91, he became a manager for new tag teams in the Federation. Poffo led The Beverly Brothers and Money, Inc. to great heights in the WWF tag team division. Sadly, Poffo wouldn't realize his dream of managing a world tag titlist, as Jimmy Hart purchased Money, Inc. from him in 1992.
Undeniably the most successful wrestler of the Poffo family was Randy Poffo, known to millions as "Macho Man" Randy Savage. Before going pro, Savage played pro ball for the St. Louis Cardinals, Cincinnati Reds, and Chicago White Sox for five years. To avoid contractual problems with the Major League Ballplayer's Association, he began wrestling as The Spider under a mask (and he faced an opponent named Spider Head on "The Jeff Foxworthy Show" in 1997) in 1973, at 173 pounds. In his pro debut, he defeated Paul Christy in November of 1973.
Ole Anderson gave him the name "Savage" because of his in-ring tactics. He teamed with brother Lanny to win the Southeastern Tag Team titles and also won the International Championship Wrestling title from 1979 to 1983. When he signed with the hated manager Jimmy Hart, he began a feud with Jerry Lawler and won the Mid-South heavyweight title from him several times. He finally DID wrestle Lanny in an empty arena in late-1984, with Lawler as the referee. The match was a draw when both men could no longer continue.
Savage's career took a turn for the best when the WWF took notice of him and signed him in 1985. He surprised many when after months of being courted by managers, he settled on the unknown Elizabeth Huelette. On February 6, 1986, he won the WWF Intercontinental title from Tito Santana. During a match with Ricky "The Dragon" Steamboat, Savage took the timekeeper's bell and put the edge of the wooden board it was attached to into Steamboat's larynx, crushing it and putting him out of action for months. Steamboat won the I-C belt at WrestleMania III on March 29, 1987 in a match that was voted Match Of The Year 1987. Savage would turn to a fan-favorite over the course of the year, and befriended Hulk Hogan. When a controversy put the WWF World title up for grabs in the WrestleMania IV tournament, Savage advanced to the finals, and with Hogan's help, won the finals over Ted DiBiase. Hogan and Savage formed The Megapowers tag team and quickly dominated the tag team ranks. The union was dissolved when Elizabeth was thrown off the ring apron by accident and Hogan chose to carry her back to the medical ward rather than continue his tag match. Savage claimed Hulk was "lusting after" Elizabeth and attacked him. The two met at WrestleMania V, and Savage lost his title and Elizabeth.
Savage was again in the role of rulebreaker when he returned to WWF rings, this time with former WWF World Women's champion "Sensational" Sherri Martel in his corner. He apparently ended his career when he challenged the new WWF titlist, The Ultimate Warrior, to a title match which Warrior declined. He attacked Warrior with a spotlight at the 1991 Royal Rumble, causing him to lose to Sgt. Slaughter. In what was originally scheduled to be a cage match, Savage lost to Warrior in a retirement match at WrestleMania VII. Elizabeth was in the crowd and cheered Savage, and when Sherri lambasted Randy for his loss, she ran the ring and cleaned Martel's clock. Savage again turned face and went on to broadcasting on "WWF Superstars." Eventually, he would propose to Liz, and she accepted with an "Ooooh, yeah!" They would marry at SummerSlam '91.
A heinous incident in WWF history occurred during October 1991 when Jake "The Snake" Roberts turned his king cobra on Savage and it bit into his arm. Then-WWF president Jack Tunney was forced to reinstate Savage and allow him to face Roberts at the Tuesday In Texas pay-per-view. Roberts dominated most of the match until he slapped Elizabeth and told Savage to "Get his ass up and fight." Savage went on to victory.
A man known for his womanizing, Ric Flair perpetrated a set of electronically altered photographs of him and Liz before Savage, and set off a wild feud that never ended. Savage would win the WWF World title from Flair at WrestleMania VIII. Flair attacked Savage at SummerSlam '92, injuring his knee, and costing him a countout loss to The Ultimate Warrior. Three days later, Flair took advantage of Savage's knee and won the WWF title again by submission.
Interference from Vince McMahon allowed Randy to win the USWA heavyweight title from Jerry Lawler on October 11, 1993.
Crush accused Savage of turning on him while he was recovering from a serious injury, and attacked him on a "Monday Night Raw" broadcast. Savage would go on to beat him in a falls-count- anywhere match at WrestleMania X when he pinned him, then hung him upside-down from the ceiling of Madison Square Garden.
The nine-year affair with the WWF would end in October 1994 for Savage. He had been instructed to concentrate on either wrestling or broadcasting and chose the latter. When Lex Luger was attacked by Bob Backlund, he ran in to help and thusly violated his probation. He couldn't come to terms on a new WWF contract and left the Federation.
On December 3, 1994, he appeared on "WCW Saturday Night" and promised that at Starrcade 1994, he would either slap Hulk Hogan or shake his hand. He shook, and the two formed The Megamaniacs. Ric Flair rekindled his feud with Savage when at WCW Uncensored 1995, he wore women's clothing and assaulted him.
WCW would go on to induct Angelo Poffo into the WCW Hall Of Fame at Slamboree 1995, but the evening would end in heartbreak. Ric Flair and Arn Anderson pummeled Poffo and put him in a figure- four. Flair would score another victory over Savage when they met at The Great American Bash 1995, and Flair used Angelo's cane against both Poffos. Savage finally pinned Flair at Bash At The Beach in a "lifegaurd match."
He began a feud with Lex Luger when he tried to join Hogan's clique and Savage didn't trust him. Luger would turn on both Hogan and Savage at Halloween Havoc '95. Savage rebounded from a knockout loss to Luger at WCW World War 3 to win the subsequent 60-man battle royal for the vacant world title. He lost the belt again to Flair at Starrcade 1995, but won it again on "Monday Nitro" on January 22, 1996. Elizabeth returned to Savage's side, only to join Flair's, at SuperBrawl VI. Savage pinned Flair as part of a three-tier cage match at Uncensored '96.
Hogan and Savage would again be feuding when this time HOGAN reversed his philosophy and attacked Savage at Bash At The Beach '96, and joined the New World Order. The NWO made Savage their target when Sting abandoned WCW and Lex Luger became injured. Hogan pinned Savage at Halloween Havoc 1996, and then Savage left WCW for a short time amid rumors he would show up in the WWF again. He returned to wrestling in January and staged a sit-in on "Nitro" in January 1997. At SuperBrawl VII, he would join the NWO.
When Savage brought out a copy of "Playboy's Nude Celebrities" that featured Diamond Dallas Page's wife, Kimberley, and said he was "impressed" by her, a feud began. This pushed Savage over the edge as he threatened to hit Kimberley numerous times, and Liz became a more active part of the relationship. They traded victories until Page defeated Savage in a death match at Halloween Havoc1997.
Savage began to show his disdain for the lack of leadership in the NWO when he claimed that they had failed in several attempts to aid him, causing him to lose. He eventually sided with Sting in his war with Hogan, but eventually turned on him at Uncensored '97. When Kevin Nash split the NWO into Hollywood and Wolfpac factions, Savage joined the Wolfpac to no one's surprise. He later tore his ACL at a WCW card and then was hit by a car driven by Hogan on "Nitro." He won the WCW World title from Sting at Spring Stampede, and then lost it the next night when Bret Hart helped Hogan score a pin. During a cage match Page, an NWO melee ensued, and during it, Savage broke his leg at the knee.

Footnote from Proxi, since this writing, Randy has had the knee operated on, however is not expected to return to wrestling till the first part of 1999. However he is expected to return to the scene in September
I sure hope so, have missed him:)


Here are some "Macho Pics"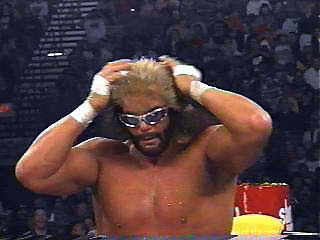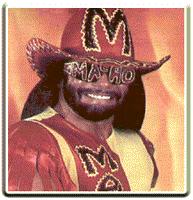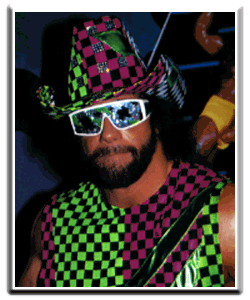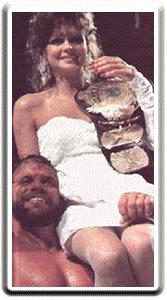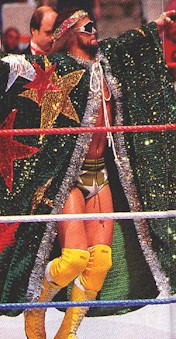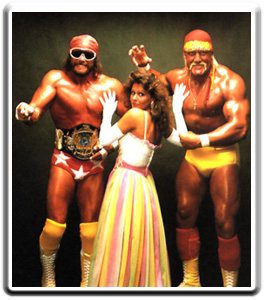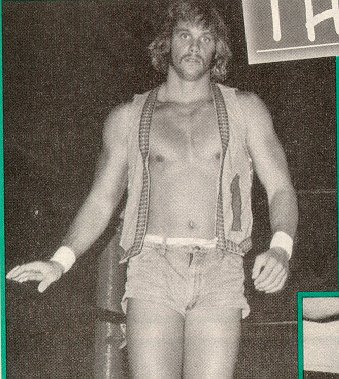 And some "Macho Music"
I especially like the "Heart a Pumpin" one
It is kinda like a rap song, perky, and done by Macho


Ohhhh Yeahhh!!!
Funky Like A Monkey, Oh Yeah!
Macho Man's Original WWF Theme
Original Theme in Midi (done by TB)"
Macho's nWo Wav




And if you would care to visit his page, click here:)

Proxi Loves Machoman!!!
Oh Yeah!!!!!!!!!!!!!!!!!!